Mobio 土壤DNA提取试剂盒(视频)
发布者:信息部 发布时间:2015-05-06
土壤、粪便等各种环境样品中提取出不含PCR抑制因子的高质量的微生物基因组DNA
| | | |
| --- | --- | --- |
| 品牌 | 货号 | 提取次数 |
| Mobio | 12888-50 | 50次 |
相关产品
强力土壤总RNA提取试剂盒,
PowerMicrobiome粪便RNA提取试剂盒*NEW
涡旋仪适配器(13000-V1、13000-V1-24适用)
腐植酸PCR抑制因子去除试剂盒
产品特点
・ 从土壤、粪便等复杂环境样品中提取不含抑制因子的高质量DNA
・ 专利技术100%去除腐植酸等PCR抑制因子
・ 只要30min就能快速提取250mg土壤样品DNA
描述
MO BIO的强力土壤DNA提取试剂盒(PowerSoil® DNA Isolation Kit)使用了专利的抑制因子去除技术(Inhibitor Removal Technology®),能提取所有类型土壤,以及包括粪便、肠内容物、生物固体等环境样品的微生物总DNA。堆肥、底泥沉积物、粪肥等样品的最终DNA纯度非常高,可直接用于所有PCR、QPCR等下游实验。PCR分析已经证明可成功提取所有类型环境微生物,包括格兰性阴阳性菌(如芽孢杆菌、炭疽杆菌)、真菌(如酵母、霉菌)、藻类、放线菌(如链霉素)和线虫等。PowerSoil的专利腐殖质/棕色物质去除流程能去除所有复杂土壤类型中的各种PCR抑制因子,保证最终DNA能顺利进行PCR、qPCR、新一代测序等各种高要求下游应用,因而使用效果比其它品牌试剂盒更加出色。
研究与深入
强力土壤DNA提取试剂盒(PowerSoil® DNA Isolation Kit)非常适合PCR方法做土壤微生物多样性分析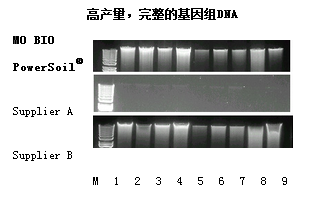 使用MOBIO的强力土壤DNA提取试剂盒(PowerSoil DNA Isolation Kit),及其他两家厂商的产品提取9个不同土壤样品总基因组DNA。所有操作严格按照厂商提供说明书来进行。所得DNA 作0.8%TAE琼脂糖凝胶电泳显示如上(每孔15μl)。
操作演示视频
已发表部分参考文献
・ Christine M. Bassis, John R. Erb-Downward, Robert P. Dickson, Christine M. Freeman, Thomas M. Schmidt, Vincent B. Young, James M. Beck, Jeffrey L. Curtis, and Gary B. Huffnagle. Analysis of the Upper Respiratory Tract Microbiotas as the Source of the Lung and Gastric Microbiotas in Healthy Individuals mBio. 2015 Mar-Apr; 6(2): e00037-15.
・ Naji M Bassi, Nicholas Bryan, and Jonathan R Lloyd1.Microbial degradation of isosaccharinic acid at high pH ;ISME J. 2015 Feb; 9(2): 310C320.
・ Arvind Venkataraman, Christine M. Bassis, James M. Beck, Vincent B. Young, Jeffrey L. Curtis, Gary B. Huffnagle, and Thomas M. Schmidt. Application of a Neutral Community Model To Assess Structuring of the Human Lung Microbiome ;mBio. 2015 Jan-Feb; 6(1): e02284-14.
・ Majed Albokari, Ibrahim Mashhour, Mohammed Alshehri, Chris Boothman, and Mousa Al-Enezi Characterization of microbial communities in heavy crude oil from Saudi Arabia ;Ann Microbiol. 2015; 65(1): 95C104.
・ SKirsty F. Smith, Miguel de Salas, Janet Adamson, and Lesley L. Rhodes. Effects of Water Stress on the Endophytic Fungal Communities of Pinus koraiensis Needles Infected by Cenangium ferruginosum ;Mycobiology. 2014 Dec; 42(4): 331C338.
・ S M Brown,D Jenkins. Profiling gene expression to distinguish the likely active diazotrophs from a sea of genetic potential in marine sediments ;Environ Microbiol. 2014 Oct; 16(10): 3128C3142.
・ Embriette R. Hyde, Fernando Andrade, Zalman Vaksman, Kavitha Parthasarathy, Hong Jiang, Deepa K. Parthasarathy, Ashley C. Torregrossa, Gena Tribble, Heidi B. Kaplan, Joseph F. Petrosino, and Nathan S. Bryan. Metagenomic Analysis of Nitrate-Reducing Bacteria in the Oral Cavity: Implications for Nitric Oxide Homeostasis ;PLoS One. 2014; 9(3): e88645.
・ Steven W. Kembel, Timothy K. O'Connor, Holly K. Arnold, Stephen P. Hubbell, S. Joseph Wright, and Jessica L. Greenb. Relationships between phyllosphere bacterial communities and plant functional traits in a neotropical forest ;Proc Natl Acad Sci U S A. 2014 Sep 23; 111(38): 13715C13720.
・ Yan Li, Gary W. Lawrence, Shien Lu, Clarissa Balbalian , and Vincent P. Klink.Quantitative Field Testing Heterodera glycines from Metagenomic DNA Samples Isolated Directly from Soil under Agronomic Production ;PLoS One. 2014; 9(2): e89887.
・ Daniel I. Bolnick, Lisa K. Snowberg, Philipp E. Hirsch, Christian L. Lauber,Elin Org,Brian Parks, Aldons J. Lusis,Rob Knight, Gregory Caporaso,and Richard Svanback. Individual diet has sex-dependent effects on vertebrate gut microbiota ;Nat Commun. 2014 Jul 29; 5: 4500.
・ Mummey, D.L., Rillig, M.C.The Invasive Plant Species Centaurea maculosa Alters Arbuscular Mycorrhizal Fungal Communities In The Field .Plant Soil. 288: 81-90 (2006).
Admin